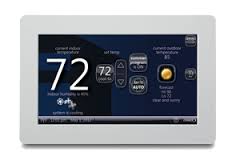 Thermostats are used to turn on heating or cooling systems to bring the home to a set temperature. In addition to basic temperature control, programmable thermostats can be used to manage the indoor environment of your home at different times of the day or week. This type of control can have a dramatic impact on the overall energy use of your home. We carry a complete line of thermostats. Let us help you choose the one that best matches your lifestyle.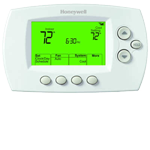 Control your Home from your Phone
Honeywell Wi-Fi Thermostats
Honeywell's Wi-Fi thermostats allow homeowners remote access to the thermostat through a computer, tablet, or smart phone.
Homeowners can monitor, program and control their home's comfort settings from anywhere at anytime. Not only control your home's heating and cooling, but also control humidifiers and dehumidifiers. Thermostat provides system performance email alerts for a level of awareness. It's easy to use programming capabilities have automatic software updates through Wi-Fi. The thermostat display is large, clear and easy to read in various lighting. Temperature range stop programming prevents the user from setting the temperature too high or too low for the home. No monthly fee and free app download. The programmable thermostat that gives you "peace of mind" anytime and anywhere.
Programmable Thermostat Product Offering